XP Web Sites
Purchase
Learn About
Downloads
Update Rollup 1 for Windows XP
Service Pack 1a for Windows XP is now available for download and on CD.
Just Give It Away!
Your first download form Microsoft: Powertoys for Windows XP.
Your second download from Microsoft: Windows Media Bonus Pack for Windows XP
Windows XP Professional - First Impressions
The Windows XP Books - Updated
December 20, 2001
Professional or Home?
Windows XP Professional Resource Kit: Explore this comprehensive technical resource for installing, configuring, and supporting Windows XP Professional and Windows XP 64-Bit Edition in networks that use Windows 2000 Server, Windows NT® Server 4.0, and other server systems.
Windows XP Professional Online Help on TechNet: Browse the most up-to-date versions of Windows XP Professional Help files on the TechNet site.
Expert Zone: Articles, Tips, and Newsgroups.
Tips: Microsoft has posted tips contributed by users.
Technical Articles: Get detailed technical information on using Windows XP.
Comparison Guide: What version of Windows XP is right for You? This chart at Microsoft list both versions in detail.
Upgrading to Windows XP: Does your current Windows OS qualify for an upgrade to Windows XP?
Upgrade Advisor: Is your system ready for an upgrade to Windows XP Professional or Home OS? Microsoft has an upgrade evaluation program (Upgrade Advisor) you can download and run from your computer.
The Upgrade Advisor is a tool that checks your system hardware and software to see if it is ready for upgrade to Windows XP. If you run Upgrade Advisor while you are connected to the Internet, and if your system needs updates that are available on the Windows Update Web site, Upgrade Advisor will find and install the updates for you. beware: This program is a 50mb download!
Windows XP Web Sites
Windows XP Support Center Microsoft's Support Center for Windows XP. This page has links to just about any area of Windows XP including all the links listed above.
Microsft's own list of Windows XP Web sites.
Paul Thurratt's Supersite for Windows
Tweak XP
wexperience
windows-help.net Widows XP Center
WindowsXPUser
Windows-Expert
Windows XP Discussion Forum at Annoyances.com
WinXPSource.com
Windows XP Software Compatibility
Purchase Windows XP Home or Professional
Learn About Windows XP
Indexing Service
Search Companion
Start Menu
What Is A Shortcut Menu?
The Improved Windows Explorer
Themes and Appearance for the Desktop
Changing Control Panel to Windows Classic View
Changing Start Menu to Windows Classic View
Downloads for Windows XP
Update Rollup 1 for Windows XP: Microsoft has released Update Rollup 1 for Microsoft Windows XP. An update rollup is a cumulative set of hotfixes, security patches, critical updates, and updates that are packaged together for easy deployment. Update Rollup 1 for Windows XP is a single package that includes many previously released critical updates for Windows XP.
Requires Windows XP and Service Pack 1 for Windows XP.
Go to the Microsoft Download Center. It is a 2.7MB download.
For more information, read Microsoft Knowledge Base Article 826939
Microsoft will no longer provide Java downloads for Windows XP. Windows XP users who did a full install of Windows XP and no longer have Java support must now get Java from SUN Microsystems.
Microsoft now has a download available at Microsoft Support that will create a boot floppy set to start an WinXP Installation. It is a 4MByte download and to create the set requires 6 formated floppies. If you have experience with Windows 2000 Pro you are familar with this utility. (see tip)
Warning!!! The newest version of Powertoys for XP, version 2.00.1.0, requires, I repeat requires, Service Pack One (SP1) to be installed first.
If, like me, you just love TweakUI then you need to download PowerToys for Windows XP. TweakUI is one of several nifty programs included in PowerToys. Also included: a slide show generator, power calculator, image resizer, and more.
Windows Movie Maker 2 Windows Movie Maker 2 makes home movies amazingly fun. With Movie Maker 2, you can create, edit, and share your home movies right on your computer.
The Windows Media Bonus Pack for Windows XP Windows Media Bonus Pack for Windows XP! Jam-packed with utilities, Media PowerToys, visualizations, skins, sound effects, and much more, the free Windows Media Bonus Pack installs on your Windows XP-based PC and lets your personality and creativity shine.
The Best Accessory In The Computer Universe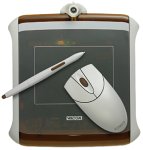 I plug this device whenever I can. It is the most efficient way to get around a graphical universe and it's been updated. It's the Wacom's Graphire2 4x5 graphics tablet with pen, wireless scrolling mouse and software bundle:. Available with serial or USB interface. Can be ordered from Amazon in Ruby ($87.95), Steel Blue ($75.66) and Bronze ($87.95).
Note: The NY Times requires that you register. Do it. They require very little information for what is probably the best general news site on the web.